Sway vs Swayfit - difference?
Width adjustment on all "fit" models!
That's the main difference - but a big one allowing more personalisation.

Ever since we started selling the Salli Sway in Australia we would always get the question - can you adjust the width? Well, yes, now you can!

This allows a one size fits all seat for those with narrower pelvises and also those that find the standard Sway width a bit too much.



Why should I sit on a Salli?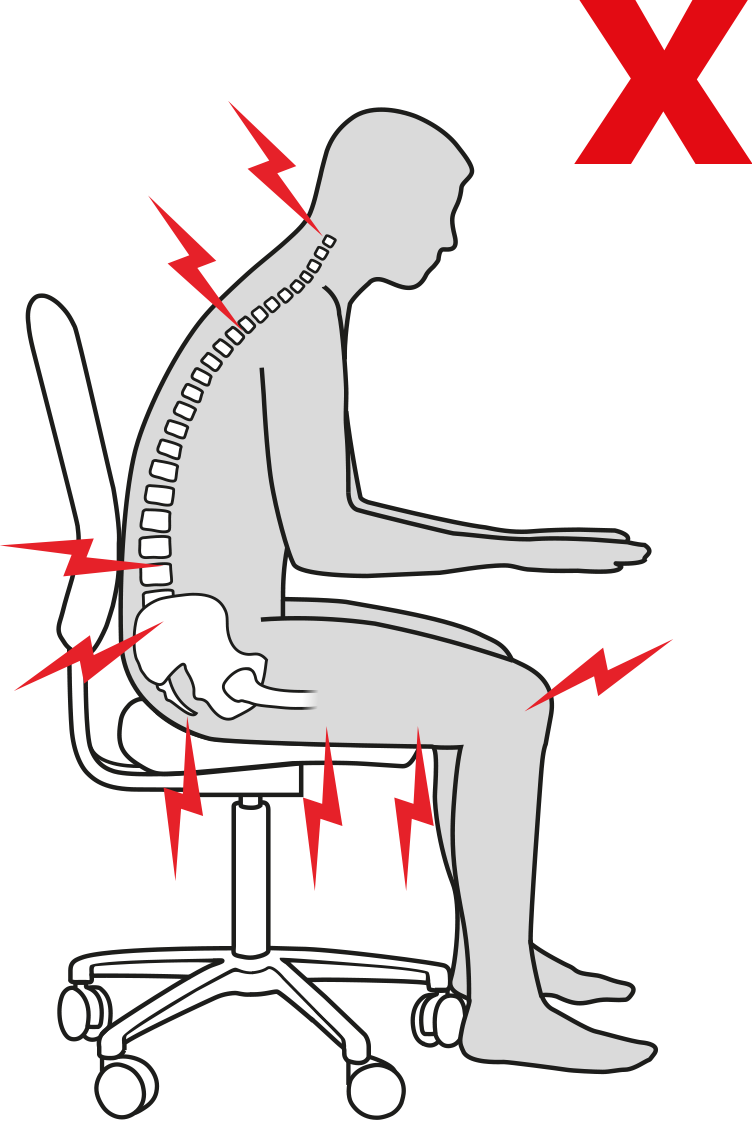 Do you sit on a regular office chair?
So you are currently sitting on your regular work chair, dental stool, or even at home and wondering why you have this lingering dull or stabbing pain in your lower back, and/or perhaps stiff shoulders and neck. You just know it is going to hurt when you go to stand up and you are dreading the thought.

Perhaps you are standing at your new sit-stand desk wondering how you are going to stand up all day to be healthy! (because that's the current thing right?).

Your legs get tired, your hips get sore from leaning when you shouldn't, and then you have to sit in that chair again that made you want to stand up in the first place!
So meet the classic "ergonomic sitting guy".
You have all seen these types of images before.
sit with 90 degree angles at knees and back/torso
push backrest into back
adjust lumbar support, seat pan depth, seat height, armrest width, armrest height etc etc
Can you sit all day forced into this position? No. This is how you might start the day, but not how you finish. The number of people we see with back pain caused by these "ergonomic" chairs is astounding. There are no formal guidelines for use of the word ergonomic - it pretty much just means adjustable (or please buy me because I am ergonomic, right, it must be good for me?)

The fact is your pelvis will still be rotated back, putting strain on your lower back, and subsequently your discs, leading to bulges, prolapses and acute pain.
So what makes the Salli Swayfit different?
This video is worth a watch.
The main thing to notice is how easy it is to maintain perfect posture. Salli saddle stools help you achieve the very desirable neutral spine position without being forced.
Pressure matters .......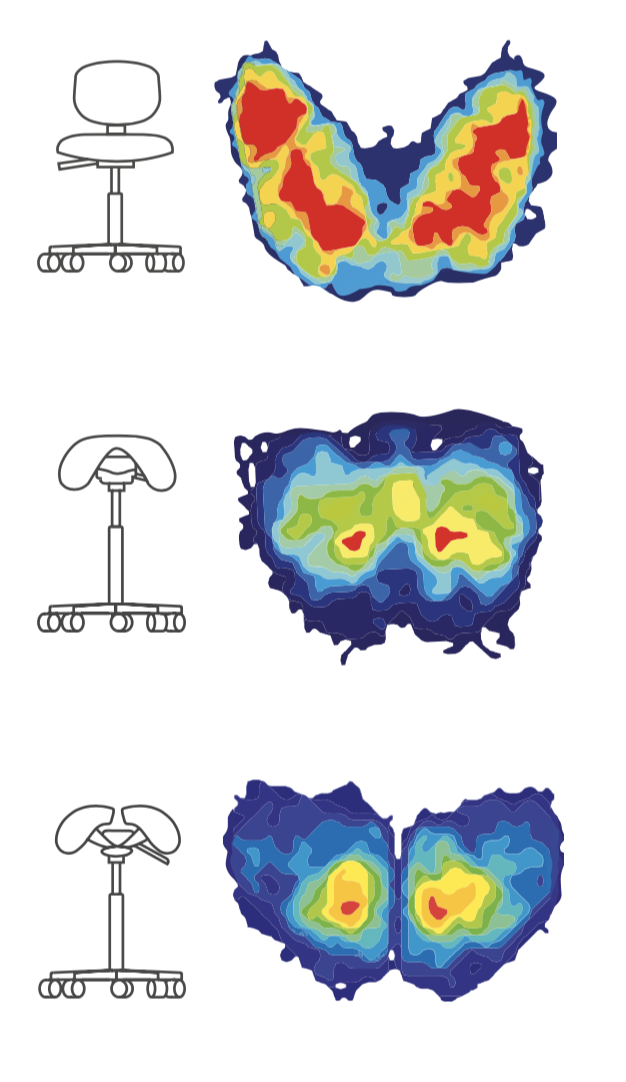 The pressure caused by sitting on conventional chairs disturbs the pelvis, tailbone, pelvic floor and genital area. It is believed to increase intestinal and internal pelvic health problems and erectile dysfunctions.

On a conventional chair men tend to lean backwards in order to avoid the pressure in the genital area. This means the back is not straight, which results in back problems.


On a one-part saddle chair the pressure on the pelvic opening is even stronger. We automatically try to avoid it by tilting the pelvis backwards, and as a result we slouch. If one already has back pain and it is too painful to slouch, the result is a numbed genital area due to the pressure imposed on it.


When sitting on a two-part saddle chair, the pressure is on the sitting bones. As a result there is less pressure on soft tissues and that is why we can sit more comfortably, in a balanced position. Circulation also remains undisturbed.


What is active sitting?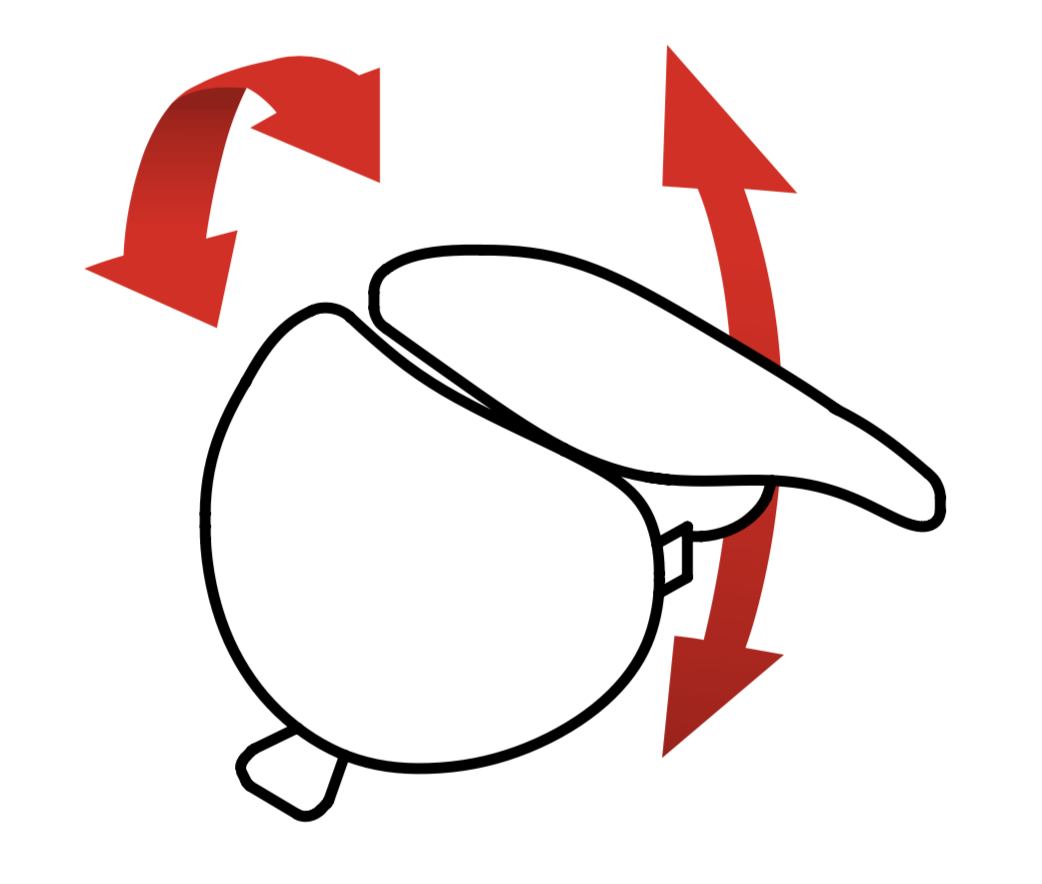 This is how the Sway gets its name!
Active seating is a rocking mechanism that enables the saddle seat to be tilted in every direction without a separate adjustment lever. It functions in much the same way as a proprioceptor board is used for retraining/rehabilitation of the ankles after strain or injury.


Traditional saddle seats lock the pelvis in the seated position, whereas the Salli Sway enables 360 degree pelvic movement, and as your centre of weight changes with natural movement, it encourages the muscles in the lower back improving tone and strength; reducing back pain and sitting fatigue.
Some other health benefits
On Salli you sit like on a horse. The chair directs your body automatically in the natural position, provided that the height of the chair is correctly adjusted. Using the Salli saddle chair together with a height adjustable table helps the neck and shoulder area to relax.
Diminishes the risk of joint problems
The optimum sitting position on a saddle chair creates a 135-degree angle between the thighs and the upper body. According to several international studies, this is the only healthy way to sit because it improves circulation in the hip and knee joints.
When we sit in a slouched position, the intestines get pressed between the hip and the upper body which slows down bowel movements. It is difficult to slouch on a Salli!
Helps rehabilitate the pelvic floor muscles
Lots of middle-aged women have problems with their pelvic floor muscles. Sitting on a Salli Sway activates those muscles effectively.
So why buy a Salli Saddle seat?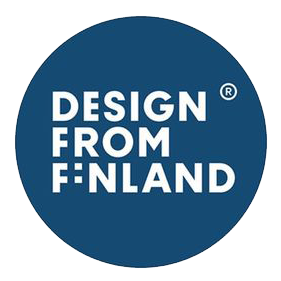 Salli Systems have been producing saddle chairs since 1990
Research and development is critical to Salli so they can continue to create not only great quality products with materials designed to last (like a 3mm thick steel seat base), but also products that have GENUINE health benefits. There is science involved!

It is also vitally important to get a saddles chair to fit you, that's what we are happy to advise you, so please contact us! It' what we are here for.

Do you really think a $99 hairdressers saddle chair is going to be good for you? These contraptions can often do more harm than good ....
Salli Review - Trader
As a private trader I spend a lot of time seated in front of a computer. Over 23 years of trading I've tried all sorts of ergonomic chairs and endured severe bouts of lower back problems, some of which have required hospitalization.

Since using a Salli Swayfit I'm over the moon… my lower back pain has markedly reduced. Based on my experience I have no qualms recommending a Salli chair to anyone who spends a lot of time in an office chair.

Peter King Trader Australia 16/02/19
Thanks for the incredible review! So many 'ergonomic' chairs out there that are anything but ergonomic - only very adjustable - big difference! We think the use of the word ergonomic should be regulated ;)
No more neck pain
I have always hated working at a desk but this changes everything. No more neck pain, fatigue, and tight hips. My saddle seat keeps me focused and alert and supports me in a perfect posture. Totally worth it!
Fantastic, that's what we like to hear! Sometimes people don't believe Salli can make such a difference, but again, you are proof it does - thanks for the review!
Great chair for improved posture
I'm a dental therapist, since using my Salli chair my posture has improved and back pain has all but resolved. I can't go back to a normal chair again. Postage was very fast. Assembly was super easy - no need for any tools.
Awesome! It will get better and better.
Best investment!
Love my Salli chair and my back is better for using it!
Awesome! Great to hear, thanks for the fantastic review.
Great seat
I'm so happy I upgraded wheels and leather. Rolls like a dream. Comfortable to sit on and work from. I was worried it would take a while to break in but haven't had any issues
You can't go past leather for a bit of luxury and those wheels, yep, they are fantastically smooth! Thanks for the great review and keep on 'Sitting Happy'!